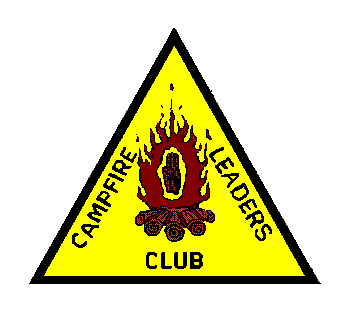 The Campfire Leaders' Club
"The Campfire Leaders' Club's aim is to assist Leaders to run quality campfires". That sounds a bit high-falutin' ... we just want to help you to give your Scouts some of the Scouting magic and romance that comes all the way direct to us from that first camp on Brownsea Island.
Membership will cost you £5 (UK stirling) per annum (£1 extra for overseas members), and for that you will get 3 copies of the Club Journal (songs, stunts, details of campfire courses etc), access to the Club's tape library, loads of campfire contacts and so on. You can also buy the Club's blanket badge and the Club's T-shirt. There is just one snag - you have to participate, because the Club is only as good as the input from its members.
The Membership Secretary is Mrs Joy Lambert and the Journal Editor is Jeff Lambert.
Both can be emailed at or contacted at:-
98 Fairfield Road,
Burgess Hill,
West Sussex RH15 8NT.
Tel: (01444) 232094.



Come and join us and help to keep 'Campfires Burning'.